How are you doing?
This page helps you out to find amazing coffee shops in Tokyo, mostly in Shibuya area.
Those who are coming from countries which is famous for coffee , you might be not satisfied with Starbucks or other chain coffee shops.
I am gonna list up unforgettable coffee shops I have been. and I try to update this page when I discovery another one. Hopefully, you will like it.
Looking for best coffee Shops? Go to Shibuya.
THE LOCAL
From <http://thelocal2016.com>
Key words of the THE LOCAL                                                                                          •Friendly                                                                                                                            •Variety of choices                                                                                                                •Small 
It takes about like 10mins from the Shibuya station, you can find here, THE LOCAL.
Although the store is not big enough, (not good place to stay long) but the atmosphere of store is comfortable. Barista I met was friendly, and he gave detailed explanation politely about coffee which customers can choose. 
An amazing thing is that they collaborate with other coffee shops not only from Tokyo but also from other prefectures like Miyagi prefecture which is located north part of Japan.
So. you can find your favorite taste of coffee from a variety of coffee by consulting with barista. 
(I don't know whether they can speak English though lol.)
and I picked up a coffee, which was full-bodied and  not sour.  It was definitely my favorite coffee.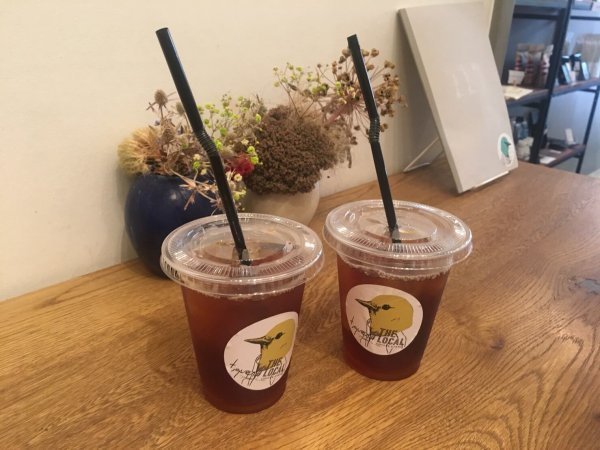 In the store, you can find some artistic pictures, it also helps to create fashionable atmosphere.
They put stickers on a cup as well. Cute.
According to website, there is an online service that you can order before you come to the store, and pick up your drink when you arrive. If you are in hurry, it would be a great service.
You wanna find your favorite coffee?? The LOCAL is good choice to go.
THE LOCAL
Adress: 2-10-15, SHIBUYA, SHIBUYA-KU, TOKYO
Opening hours: WEEKDAYS / 8:00 – 19:00 WEEKENDS, PUBLIC HOLIDAYS / 10:00 – 18:00
website:
FUGLEN COFFEE ROASTERS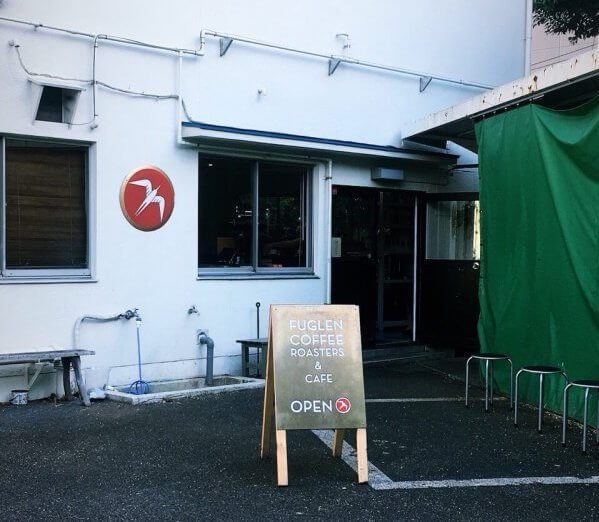 Key words of the FUGLEN COFFEE ROASTERS    
•Secret place
•chill vibes
•light-roasted
If you don't have  google map. I would say that it's difficult to find this store. hahaha
It may be rare that people walk a street and drop by this coffee store.  Sounds like secret place, doesn't it??
Fuglen has 2 stores in Shibuya area, The roster is a minor one compare to Fugen coffee Tokyo, where is always crowded with customers.
Let me introduce this brand briefly.
"FUGLEN" originally started serving coffee in Oslo in Norway in 1963.
Their unique concepts are interesting that not only coffee cafe, but also becoming cocktail bar at night. Which has engaged people's hearts and minds for decades.
They run the store  with the store coordinated with Scandinavian vintage designed furnitures. You can visit and feel at Fugen coffee Tokyo,(not at roaster).
Roaster's concept of coffee is that they want customers to enjoy original natural taste of coffee.
So, they serve coffee with light-rasted, not Deeply-roasted'.
They hope that those who don't like sour-taste coffee, becomes to know how every single coffee is different depends on the soil,weather and region.
WHAT WE DO

We're a micro roaster committed to providing only the highest quality. We've chosen to focus on roasting & sourcing only the best & freshest coffee we can find, buying small lots as directly as possible from what we believe are the best coffee growers around the world. We roast lightly, in the Nordic style, to enhance all the good, natural flavours of coffee without adding any roasty tones – showcasing the vast difference of flavours that the world of coffee has to offer. Our end goal is to create a product that is as transparent as possible, so that you can experience the taste of the terroir and the varietal of each and every different coffee.

From: <http://fuglencoffee.com>
The store is not specious, there are only few seats,
but you can feel smell of coffee….. nice……. And quiet. Not crowded. chill.  
When you are tired from crowds with people… Come here and chill.
Chill vibes and coffee make you refresh.
FUGLEN COFFEE ROASTERS
Adress: T-House 1F, 1-2-5 Jinnan, Shibuya, Tokyo, Japan
Opening hours: 11:00-17:00 (Only from Thursday to Sunday) 
website:
http://fuglencoffee.com
FUGLEN COFFEE TOKYO
website:
http://www.fuglen.com
GRAMERCY COFFEE BAR
From: <https://www.facebook.com/gramercycoffeebar/>
Key words of the GRAMERCY COFFEE BAR 
• Without worrying about time
•Well-designed store
•relax
It is easier to go to this coffee store from Omotesando. It takes about 8 mins.
This store is located in highly-residential area, so, it is quite and not crowded.
When I visited  this store in summer,  I feel comfortable caz, the design of the store is cool and well-designed and clean. And temperature of the store is well-controlled, so it was really good spot to keep away from extremely hot-weather.
Okay, let's move on the topic about coffee.
One remarkable point is that they serve ice-latte by shaker.
I mean they put milk, espresso-shot and ice-cube into shaker, and shake it.
By rapid-cooling, it doesn't loose the natural taste of espresso.
They have a video, so chick it out! Cool, isn't it??
【シェイカーで作るアイスラテ】もうご存知の方も多いと思いますがGramercyCoffeeではシェイカーでアイスラテを作っています!急冷してエスプレッソの美味しさを逃さず、そして泡立ち口当たりの柔らかなラテは暑い陽気に一息つくにはピッタリです!

Gramercy Coffee グラマシーコーヒーさんの投稿 2017年7月27日木曜日

From:<https://www.facebook.com/gramercycoffeebar/>
Cafes around Omotesando area are always crowded and busy.
but, once you come here, you can escape from people and relax without worrying about time. 
It is really good spot to do PC, read a book, chat with friends, whatever you want.
GRAMERCY COFFEE BAR
Adress:3-7-2 Minami Aoyama Minatoku Tokyo, 107-0062
Opening hours:
9:00-19:00 From Monday to Friday
11:00-17:00 Saturday
website:
https://www.facebook.com/gramercycoffeebar/
Sum up
Do you find your own favorite coffee store??
Hopefully, this page helps you out to find.
Okay, enjoy your coffee and have a nice day.
Rinto